Download Yamaha 75hp Repair Manual
All of the Yamaha 75 horsepower manuals listed below are available for instant download. Click on the 'DOWNLOAD' link near the model # to download a manual. If you are unsure of your engine's model number, locate the identification plate. The ID plate is usually attached to the clamp bracket, see image. (2) identifies the 'Model Number', also termed model name. (1) identifies the engine's 'Serial Number'. (3) identifies 'Transom Height'. (4) identifies the 'Prefix Model Code'.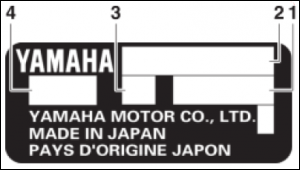 YEAR
MODEL #
ADDITIONAL INFO.
SUPPLEMENT
SUPPLEMENT 2

 1995

C75TLRT
DOWNLOAD

Uses same manual as 85hp models. 

LIT-18616-00-44

LIT-18616-00-84 

 1995

E75MLHT
DOWNLOAD 

75hp 2-stroke 3-cyl. 

LIT-18616-01-30 

N/A 

 1996

C75TLRU
DOWNLOAD

75hp 2-stroke 3-cyl. 

LIT-18616-01-49 

N/A 

1996

E75MLHU
DOWNLOAD

 75 hp 2-stroke 3-cyl.

LIT-18616-01-49

N/A

1996

P75TLHU
DOWNLOAD

 75hp 2-stroke 3-cyl.

LIT-18616-01-39

N/A

1997

E75MLHV
DOWNLOAD

 2-stroke 3-cylinder

LIT-18616-01-73

N/A

1997

P75TLHV
DOWNLOAD

 75hp 2-stroke 3-cyl.

LIT-18616-01-69

N/A

1998

C75TLRW
DOWNLOAD

 75hp 2-stroke 3-cyl.

LIT-18616-01-82

N/A

1998

E75MLHW
DOWNLOAD

 75hp 2-stroke 3-cyl.

LIT-18616-01-73

N/A

1998

P75TLHW
DOWNLOAD

 75hp 2-stroke 3-cyl.

LIT-18616-01-82

N/A

1999

P75TLHX
DOWNLOAD

 75hp 2-stroke 3-cyl.

LIT-18616-02-05

N/A

2000

E75MLHY
DOWNLOAD

 75hp 2-stroke 3-cyl.

LIT-18616-01-73

N/A

2005

F75TLRD
DOWNLOAD

75hp 4-stroke 4-cyl. 

LIT-18616-F7-50

N/A

 2006

F75TLR
DOWNLOAD 

75hp 4-stroke 4-cyl. 

LIT-18616-F7-50

N/A 

2007

F75TLR
DOWNLOAD

 Four-stroke, 4-cylinder

LIT-18616-F7-50

N/A

2008

F75TLR
DOWNLOAD

75hp 4-stroke 4-cyl. 

LIT-18616-F7-50

N/A
Yamaha Outboard Repair Manual
A digital Yamaha outboard repair manual is a downloadable reference material aimed at sailors looking for a dependable source of information including topics such as outboard unit care, overhaul, maintenance, repair, and diagnostics. Regardless of the boat owner's experience level, a repair manual is definitely an essential resource to gain a better understanding of the Yamaha outboard unit and therefore get the most of it.
Types of Yamaha Outboard Manuals
There are different types of Yamaha manuals available, one for each type of audience. For instance, an overly technical manual might become overwhelming if your only purpose is performing routine maintenance. However, if you're an advanced Yamaha outboard enthusiast looking to fixing your engine then you'll require the most detailed manual possible. That said, there are Yamaha manuals for every need:
Yamaha Owner's Manuals. This is the type of manual that comes with the outboard engine. It contains information regarding basic engine specifications as well as recommended maintenance intervals.
Yamaha Factory Service Manual. You can think of these as one level above the owner's manual. Usually, factory service manuals include service specifications of mechanical, electrical, and fuel system, troubleshooting guides, and safety guidelines to follow.
Yamaha Repair Manuals. This is the type of manual commonly used by professional technicians on a daily basis. They include detailed information concerning component specifications, advanced troubleshooting procedures, wiring diagrams, assembly diagrams, Yamaha's part numbers, references, and typical repair/maintenance timesheets.
Yamaha Owner's Workshop Manuals. This type of manual is arguably the most difficult to obtain. It's used by authorized Yamaha workshops and contains advanced service, repair, and maintenance information, including step-by-step instructions, illustrations, advanced diagnostics, and more.
Yamaha Outboard Repair Manual Advantages
Among the main benefits of investing in a Yamaha outboard repair manual are the following:
Help you saving money. Repair manuals pay for themselves as they save you a great deal of money on expensive services. On average, 80% of Yamaha's outboard motor problems can be solved by performing easy maintenance and repairs. Most of these tasks take less than 4 hours and can be completed with common tools.
Let you evaluate situations efficiently. As mentioned in the previous point, most problems can be easily solved. But what about the rest? A repair manual assists you in making an educated decision regarding the task at hand. It is worth your time and effort? Do you have adequate tools? Thanks to repair manuals you can determine when it is better idea hiring a professional to fix a particular issue.
Repair manuals give you a better understanding of your boat. Repair manuals give you a holistic understanding of the capabilities of your boat. Once you know the engine's limitations you can understand why the boat has certain restrains. This knowledge allows you to explore new alternatives and thus enhance your boat.
They can get you out of trouble. Every boat owner knows there are risks associated with sailing. No matter how cautious or how meticulous you are with maintenances, failures happen. In those cases when stranded in the middle of nowhere the ability to solve outboard unit problems could prove to be priceless.
You get accurate and reliable information. Contrary to what many think, online forums (even enthusiast forums) aren't the best source of information. While it's true that many professionals share their valuable experience for free, it's also true that often forums are plagued with empiric solutions they end up causing more harm than good. Repair manuals, on the other hand, are a reliable source of information that you can count on.
So what are you waiting for? Locate the year and model Yamaha 75hp outboard repair manual on this page and download it to your computer, tablet or smartphone in seconds. Fix it now and get your boat back on the water where it belongs. Go here to download a Yamaha 40hp manual.